Savour A Piece Of Byron Bay

Your one-stop artisan chocolate boutique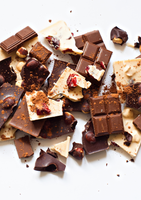 Specialists in International & Australian Chocolate
Our Love Byron Bay Chocolate Boutique is your one stop online Australian chocolate shop for quality and artisan chocolate. Rest assured when buying on-line, your chocolate will arrive in tip top condition using our temperature protective packaging, ready to savour deliciousness at its best.

Our mission is to deliver to you the happiness which chocolate brings. In these uncertain and fast changing times, quality chocolate provides the small indulgence that provides feel good experiences and deliciously nutritious treats to your life.

We specialise in quality chocolate suited to every taste and dietary preference and we're dedicated to sharing the best vegan, sugar free, gluten free, single origin, Fair Trade, raw, organic and delicious artisan chocolate we can source, make and deliver. Delight a loved one with the gift of chocolate, order online and we'll deliver anywhere in Australia.
We offer the best artisan chocolate we can source; vegan, sugar free, gluten free, single origin, Fair Trade, raw, organic and always delicious!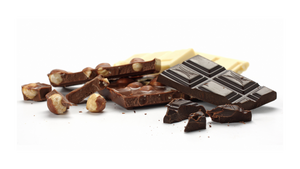 Specialty chocolates hand selected from all over the world
We've hand selected a delicious variety of organic & uniquely flavoured chocolates from all over the world, that everyone will be very happy with. Our variety gift selection includes vegan, raw, sugar free, gluten free, fair trade and so much more. Explore our vegan range here.
Vegan collection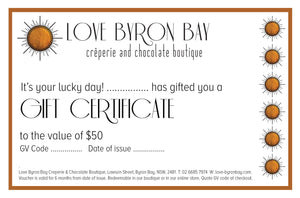 Send someone you love a gift certificate
Give the gift that allows your person to select exactly their taste in chocolate with a Love Byron Bay Gift Certificate.
The perfect gift that will put a smile on your person's face for any reason, anytime.
Order here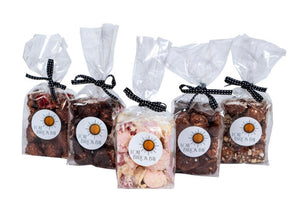 Rocky Road made with love and the taste of Byron Bay
Our Love Byron Bay rocky road range is made right here in Byron Bay, from the finest couverture milk and dark chocolate. We now have our latest look 150g gift packs with our new irresistible White Chocolate and Raspberry rocky road.
Our range includes an extensive vegan selection from the finest artisan chocolatiers and ranges our own quality chocolate rocky road, honeycomb, nuts, fruit, licorice, pralines, and more; full of delightful mouth watering tastes.
Explore our range
Shop our extensive confectionery range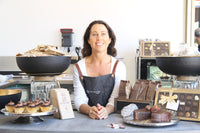 GIFTING THE LOVE OF QUALITY CHOCOLATE & DESSERTS
7 days a week, we're making our best selling rocky road, flipping your favourite crepes, frothing the best hot chocolates & offering you the finest selection of artisan chocolate, traditional French Cakes & pastries, gifts and gift hampers, so while you can still shop with us online, you can now also come on down to the Bay, & experience what we're famous for first hand.

We're constantly & consistently delivering you happiness through quality chocolate and delicious desserts that's GOOD FOR YOU!
Contact us
Why we do what we do
The best customer service of any company/store I have ever had the privilege of doing business with. They worked tirelessly with me to ship Blanxart chocolate to me in the United States. Alison was marvelous!! The chocolate is marvelous also!! Thank you!!

Sandra Joe Pendergrass Arnold
I was fortunate to enjoy some friendly hospitality at Love Byron Bay chocolate shop in Lawson St today coupled with some fine tasting as I learnt much that I didn't know about the nuances of chocolate from different lands and of different strengths.......who knew that when eaten thoughtfully that the undertones and varying flavours are comparable to those enjoyed with good wine....thankyou folks for an hour well spent.

Jane Eivers
The quirky packaging with messages. You don't have to wrap....
Like :
I'm Sorry
Get Well
Love you etc....no card writing words or wrapping.
This and the fig chocolate are my favourite treats at Love Byron

Fiona Hunter