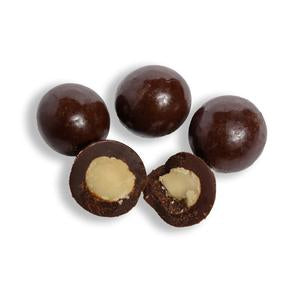 Love Byron Bay's delicious macadamia panned in couverture dark chocolate.

Chocolate panning is a very specialized technique of chocolate coating.
 A top quality macadamia centre is slowly coated in our delicious couverture chocolate, literally drop by drop, until it's evenly coated in perfectly smooth chocolate and arrives at a specific ratio of chocolate to macadamia centre.   
Gluten-Free & Vegan
180g Loose Mix
✦ Gluten Free
✦ Vegan
✦ Palm Oil Free
✦ No Artificial Colours or Flavours
✦ Non GMO
✦ No Preservatives
✦ Alcohol Free